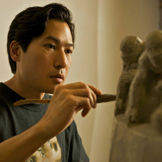 TOM TSUCHIYA – Tom is best known for creating bronze sculptures including the Cincinnati Reds statues at Great American Ball Park and the statues of Fr. James Hoff, D'Artagnan and St. Xavier at Xavier University. In addition, Tsuchiya designed and sculpted awards including the National Football League's Madden Most Valuable Protectors Award and the Revolutionary Rivalry Trophy shared by George Washington University and George Mason University
Tsuchiya's public sculptures, including works exhibited in shows in New York City and Washington, D.C., are covered by media such as The New York Times, USA Today and BBC. In addition, to public sculptures, Tsuchiya's bronzes are exhibited in private collections throughout the United States.
Tsuchiya is a Cincinnati native whose parents are from Japan. He is an alumnus of the University of Cincinnati, Indian Hill H.S. and the apprenticeship of sculptor Richard Miller. Upon completing his education, Tsuchiya has combined his passion for sports and sculpture in specializing in sports related sculptures.
GALLERY
Here are just a few examples of Tom's work.
See more featured artists
---